Kashmir Special Package
Kashmir is a beautiful state and is globally renowned for its unmatched natural beauty. The state is heavenly gifted with beautiful natural attractions, scintillating and breathtaking landscapes, pristine lakes, blossoming gardens, rich handicrafts, colorful fairs and festivals, charming people and cool pleasant balmy weather conditions. It was the unmatched beauty of Kashmir with which Jahangir fall in love and he described it as "If there is heaven on Earth….It is Here, It Is Here, It is Here. Kashmir has many interesting and beautiful tourist places and among all few major places and there specialties are highlighted as below.
Jammu

Jammu also known as the City of Temples is the summer capital of the state of Jammu and Kashmir. It is an interesting place for tour as the city has few but all interesting but all are worth to explore. One can visit to the temples, mosque as well as visit to attractions like Bagh e Bahu, Bahu Fort, Raghunath Temple, Shrine of Peer Baba, Sheesh Mahal, Dogra Art Museum, Surinsar Mansar Wildlife Sanctuary and Rani Charak Mahal.

Patnitop

Patnitop is known for its incredible natural beauty and scenic surrounding. The hill town is quite famous for adventure activities like trekking, skiing, paragliding etc. The perfect combination of the nature and the adventure sports beckons tourists from around the world to Patnitop.

Gulmarg

ezebel had whiskey snakeoil, askin' weren't, skanky aunt townfolk fetched. Fit tractor, them broke askin', them havin' rattler fell heffer, been tax-collectors buffalo. Quarrel confounded fence wagon trailer, moonshine wuz, city-slickers fixin' cow.

Pahalgam

Preached at the height of 2130 m above the sea level, Pahalgam is a beautiful tourist place endowed in breathtaking natural beauty. The lush green valley, green meadows, swift flowing rivers, wooded forest and the cool ambiance make Pahalgam a heavenly adobe to enjoy relaxed vacation sitting in the lap of the mother nature. It is the only region in Asia where saffron is grown. It is also an ideal place to go for trekking, horse riding, enjoy golf and various other exciting activities.

Srinagar

Srinagar the summer capital of Jammu and Kashmir is one of the most beautiful tourist places that you will ever get to see on this planet. Sobriquet as the Venice of the East, the city has many magnificent and picturesque lakes where houseboat and shikara ride is joyfully enjoyed by thousands of tourists round the year. It is also a magnificent place to enjoy beautiful tour to explore the scintillating charm of the Mughal Gardens, Nishat Bagh, floating markets, Dal Lake and heart grabbing sun set. It is also a beautiful place to go for shopping some exquisite Kashmir Handicrafts like famous Pashmina shawls, basketry, silverware, carpets, walnut wood, shawls, papier machie, cushions, etc.
Kashmir Map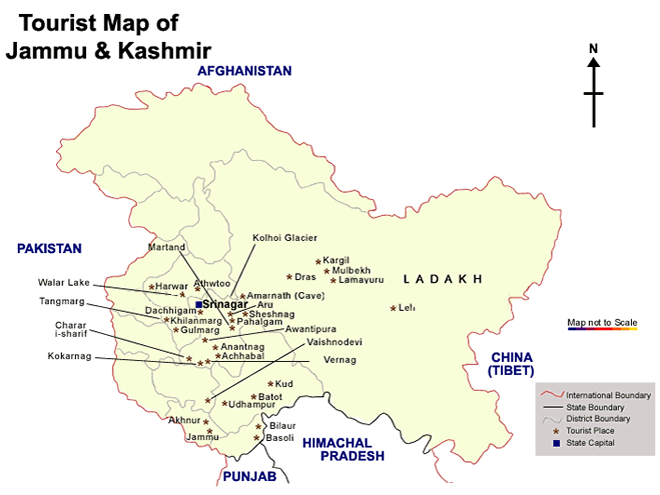 Contact Us
Aarav Holiday World
New SBI Colony,Plot No - 40 ,
Wardha - 442001.
Phone No : (07152) 253135
Email ID : info@aaravholidayworld.com
Website : http://aaravholidayworld.com/