Karnataka Holiday Tour Packages
One of the most visited states of south India is also Karnataka. Because of its varied landscapes and climatic conditions this has become very popular among the travellers to come at least once to this beautiful state enriched with culture, tradition as well as modernity. There are a great number of tourist places that one can visit in Karnataka, some of them are as follows.
Bangalore

One of the hotspot this city is called the garden city because of its greenery. People say that it has the best climatic conditions in whole of Karnataka. There beautiful parks, lakes, giant malls, art galleries, pretty palaces, forts, etc. One can visit the Jawaharlal Nehru Planetarium, Tipu Sultan's summer palace, Bangalore palace and Gandhi Bhavan. The city is bustling with people of different race walking and talking on the streets of Bangalore.

Mysore

Probably the closest city from Bangalore is the beautiful Mysore which was the former capital city of Karnataka. This small city has many exciting places to visit such as the Mysore zoo which is considered one of the biggest in south India. A visit to the scintillating palaces of Jaganmohan and Lalitha Mahal is a must. A 45 mins drive up hill will take you to Chamundi temple where you can visit Goddess Chamundi.

Hampi

this city situated in the central Karnataka is famous for the ruined stone temples. It is amazing to see and walk in the town of ruined stone temples, elephant stables, barrack and palaces. This town was probably built around 16th century. You can visit Virupaksha temple, Archaeological Museum, Malyavanta Hill, etc. Hampi has now been declared as world heritage site by UNESCO.

Gokarna

The beautiful town of Gokarna is located in the state of Karnataka. It is a holy hindy pilgrimage destination but is also known for its exotic beaches. The town is quite famous for its Mahabaleswar Temple where an "Atmalnga" is dedicated to Lord Shiva. One can also visit to the exotic beaches which are also the main tourist attractions of the town.

Udupi

It is basically a pilgrimage center and is only 58 kms from Mangalore. One can visit the 14th century Krishna temple which was founded by Acharya Madhwa in olden days. If you are lucky then you might be able to witness the famous Paryaya festival which is held in every 2 years. Other temples found here are Kadiyali Durga temple and Ambalapadi Shakti temple.

Coorg

A beautiful hilly area Coorg is really a hedonist's paradise in every sense. One can get to see the rolling green hills, huge coffee plantation, vivid culture and warm hospitality by the people. The climate is perfect when you want to get away from the sweltering heat of Hampi, Mysore and other hot places. The old – world charm, exquisite culture and cuisine makes Coorg an aristocratic. There are many other places that one can visit such as the Mangalore, Hassan, Hubli, Karwar and many others. The food is great and people are warm in Karnataka and language is not a problem for most can speak in English.
Karnataka Map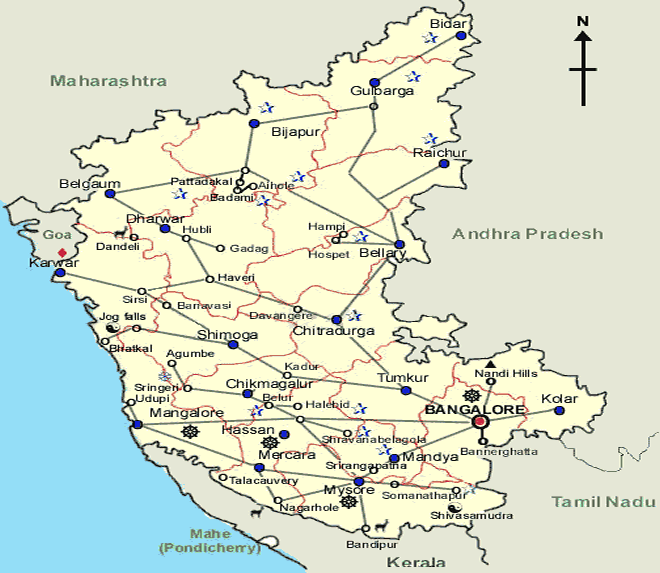 Contact Us
Aarav Holiday World
New SBI Colony,Plot No - 40 ,
Wardha - 442001.
Phone No : (07152) 253135
Email ID : info@aaravholidayworld.com
Website : http://aaravholidayworld.com/